So I've only performed spoken art once, and am so, so far from being decent, but I adore your piece so I would like to give it a shot. Apologies for my sound quality and stuttering; and thank you, Emily, for this wonderful piece and being a wonderful person through and through.

(Here is a link to said written piece if you haven't read it yet! Read it now! It's amazing)
wherein Kimberly does this justice. 
We need more voices in science
to step up in defiance for those characters 
that get erased from our stories; accolades and glories granted to counterparts 
as though we didn't have the smarts to achieve 
the impossible, believe in the improbable 
and create the unthinkable. 
It's unthinkable to me that our hindsight is so blinded. 
Turning the cheek too many times makes me think you're shaking your head:
no, no, no. 
"Hey - you look good in that dress today." 
Pay no mind to the mess that comment made 
of my self-confidence. It seems pretty obvious 
the words they think are innocuous are noxious, 
breeding doubt and insecurity, feeding bouts of fury in me
as I hear the same phrases repeated to the women in my classes,
our lab mates and the masses of budding genius minds
that yearn to focus on their hypotheses and methods 
but instead they're distracted by those words left unretracted: 
"you look good in that dress today."
If you tell her that she's pretty before you tell her that she's smart,
don't be startled when she starts to parcel out and pull apart 
her individuality. Trading physics books for glossy magazines. 
Instead of figuring fifty ways to solve differentials she's counting up 
fifty ways to potentially please her partner, 
wondering - is this what is appealing? this feeling of cheapening my intelligence
because we're terrified to be marginalized for tying to have it all,
all the while face burning, yearning tears not to drip drop while your stomach flip flops
at being called out for a love of learning. 
Just between us, from one woman to another 
it'll take a while to recover while we wonder without ignorance
why there are so many instances of being told to be a mother
before we're told to be discoverers. 
And I hope in twenty years or maybe less 
we'll be blessed with plenty of reassurances that our work
is recognized for its significance, and the difference is 
we'll be standing up for our accomplishments - not alone but with accomplices within our fields. 
Our fields. 
And it won't be such a novelty to be so proudly standing up for our beliefs
and our discoveries. 
We need more voices in science, and not those that just say, hey- 
You look good in that dress today. 
—- 8/27/14
breaknbake said: One of my friends is getting her BFA in drawing this year and she's having a small breakdown about whether she made the right choice etc etc. She has this real fondness for beetles/bugs/larvae and is sort of lamenting that she didn't go into entomology. I described the path your career has taken (as I understand it) and her response was, "It just sounds like she got really lucky." Is that a sentiment you agree with, or do you have recommendations to pass on to her?
Saying I got to be where I am because I was lucky makes me feel kinda bad - I worked hard. It wasn't like I was putting in the time hoping a famous YouTuber was going to "find" me - I was looking for any opportunity to publicize the Museum, to talk about the work we were doing. I was putting in 40+ hours a week at a museum while still working a job 35 hours. I cared.
 Instead of regretting or lamenting doing something you felt was right for you at the time, use your knowledge as a beneficial tool to get ahead. Seize opportunity. Put in the time to the thing your passionate about, don't cut corners, don't slack off, don't wait for accolades to be your encouragement. Do it for you.

The S.D. School Superintendents president urges the Legislature to increase K-12 funding.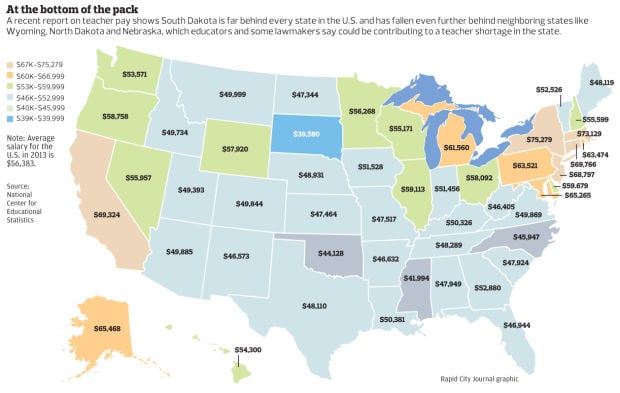 For as long as I was a student in the Rapid City, South Dakota public school system, I was told that our teachers were paid the least in the nation, so we really shouldn't be expecting a whole lot from our education. 
To give you some figures of salaries: 
Rapid City Area Schools

First year teacher with a bachelor's degree: $30,753
Teacher with master's degree and 5 years experience: $37,554

 Campbell County School District, Wyo. (30 miles from Rapid City)

First year teacher with a bachelor's degree: $46,000
Teacher with master's degree and 5 years experience: $55,200
Obviously, we are losing our teachers to other states far within our geographic reach because of the drastic difference in not only starting salaries, but additionally what is being offered for highly-educated and experienced teachers. Because of this, 238 teaching positions, almost 30 percent of the total number of jobs posted in the spring, remained open across the state well past the end of the school year.
This is a major problem. 
I knew I fared much better at Central High School than some of my peers in rural communities across the state. And I'm speaking from a point of privilege here; both of my parents are highly educated and I was able to participate in after-school activities that kept me stimulated, involved, and invested in my future. The violin saved my life and opened up a bright future when it came to applying for scholarships to get out of South Dakota. When I'm asked if I'd ever go back to live in the state the reason my stomach sinks is because I feel strongly that South Dakota is lacking that same bright future. More than half (55%) of students enrolled at Central High School as freshman drop out before graduation. 
Comparatively, the national average of high school students reaching graduation was 80% in 2012, it is not difficult to see how drastically South Dakota students are falling woefully behind. 
The reality is this is not an issue with consequences isolated to the people of South Dakota. As one of the nation's leading providers in the agricultural and beef industries, we are in danger of losing not only ranchers and farmers but savvy business people who are our hope for maintaining footholds in family-owned operations. They are putting food in your pantries and dinners on your plates and they deserve better educations, or we all suffer. 
I recommend calling the office of Governor Daugaard (605.773.3212) and saying something along the lines of:
Hi, Governor Daugaard. As a concerned citizen I am troubled by the lack of financial support being granted to South Dakota public school teachers. As you know, we are losing a significant percentage of qualified teachers to other states with more competitive salaries and are failing to fill hundreds of teaching positions across the state. As a result, I'm worried for the futures of not only thousands of students all around South Dakota, but the drastic affects an uneducated populous will have on a national level. Let's not have South Dakota teachers be the paid the lowest in the nation for another consecutive year. 
If the phone isn't for you, you can also submit a form.
Sources:
Argus Leader
Rapid City Journal
US News
Washington Post